When a client comes wanting to fix her binging, she is often surprised at the counterintuitive approaches I offer.
For starters, I don't believe that binging means she is broken, insane or weak willed. In fact I think it's a sign that something is working, and that something is asking for attention.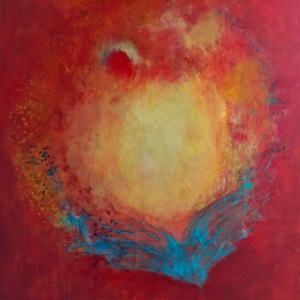 Binging is powerful. It's how an important part of us, that is being ignored, makes itself known. Instead of cutting that part of out of (if that would have worked, it would have worked already) or hating on oneself, part of the transformation is to actually give it our attention.
When we binge, it is often to relieve stress from trying to control other areas of our life (often through dieting, but it can be any area of life). To be able to binge means on some level we are in a stress response known as "fight or flight". It often feels like an old pattern, like a trance that we can't seem to control.
This is a actually a brilliant strategy that many of us learn as children, because it helps to relieve the stress in the short term.  Eating a lot of food at warp speed will eventually put the body into a food-foggy relaxed state. At that point all you can do is digest, so the system effectively shuts down from the world. In the long run, of course, it causes much more stress and misery than relief.
Below are a few simple yet powerful methods to break the trance and transform a binge. All of the keys help to bring the nervous system into a calmer state where the prefrontal cortex can light up. This is the part of the brain that helps wake us up and and have a chance to make thoughtful decisions that can undo an old cycle.
4 Keys To Transform A Binge
1) Breath Into It. Instead of "checking out", wake yourself up by slowing down, breathing, and paying attention. Let yourself get curious about the experience. When binging, we are in a state of fight or flight, by breathing slowly we shift gears in the brain to a state of relaxation. It's impossible to binge when you are truly in a state of relaxation. 
2) Savor. Notice what you like about it, notice what you don't like about it. Stress hormones make it challenging to receive pleasure. Think about it, it's hard to smell the roses when you are being chased by a lion!
On the flips side, if we are in a state of pleasure, it relaxes us and it's hard to binge. Contrary to what you might think, though binging be a stress reliever, we rarely feel actual pleasure. Slowing down and savoring snaps us out of the trance.
3) Speak kindly to yourself before, during and after, (as if you were someone that you cared about deeply)!  By strengthening your self compassion muscle at this challenging time, you optimize your greatest chance to shed light on fragmented parts of yourself and transform the cycle.
Make no mistake, when we self attack, we get stuck in "fight or flight" and we will keep the pattern going.
4) Get in you body
Before, during and especially after a binge is when we are most likely to abandon ourselves.  We promise ourselves this was the last time and disassociate from uncomfortable bodily sensations. It makes sense to want to vacate, but staying connected to bodily feelings is KEY to healing this painful cycle.
When we self attack, we get stuck on "fight or flight" where our lizard brains take over and we are much more likely to keep repeating old patterns.
When we self attack, we get stuck on "fight or flight" where our lizard brains take over and we are much more likely to keep repeating old patterns.
What's your experience with transforming a binge been like? Your thoughts are welcome below.
***
Get into Your Body through Journey Dance this Friday Aug 21st @ 7pm,