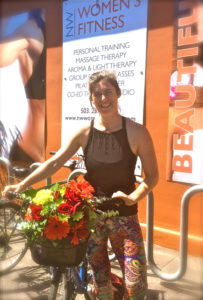 Today was my last day teaching yoga where I've taught for 15 years.
Transitions aren't exactly my strength. Anxiety has often prevailed, and was again evident to me pedaling at breakneck speed to make my last class on time.
I could also hear it in my teaching voice as it came out uncharacteristically shaky. I sensed my excessive perspiration wasn't just the yoga.
Adding to that was the grief of no longer supporting these women, some of whom have been attending my classes for over a decade. They likely have no idea what a gift they gave me by showing up and appreciating what I offered as I slowly uncovered my authentic teaching voice.
Under their loving gaze, I grew as a teacher. As I guided them to soften into the unfolding dramas in their lives, I learned to do the same.
Some of that drama included being seen in my body through my worst years of dieting and binging. I got to learn repeatedly the importance of showing up and giving my gift no matter what- week after week after week.
The reason I'm letting go (at least for now) of this foundational part of myself is that I need to make space. On Tuesday I begin grad school, another decision I circled anxiously for months before feeling solid about.
I have been doing this 'Divine Hunger' coaching now for 7 years, and quite honestly, it often feels like therapy, so I figured why not go the distance?  I am pursuing my Masters in Psychology to become a licensed therapist.
With these decisions I find questions flooding my mind; Who will I be as a therapist versus a coach?  Will I become too clinical or will this enhance the richness I offer? Who will I be if I'm not teaching yoga?
These questions have left me in a groundless, open state of mind. As the curtains of anxiety clear from my eyes though, I experience the other part of me that thrives on change and growth. This part loves the possibility of serving more people from a broader platform.
Meanwhile I am happy to report I will still be coaching and doing bodywork.  But, what other changes are on the horizon?
I have come to trust a line I often heard from a beloved mentor, Marc David and that is to 'relax into uncertainty'. So despite my shaky voice, transition clumsiness, and open ended questions, I will continue to let 'relax into uncertainty' be my north star.
How about you, How do you deal with transitions? What's your north star?  I would love to hear about it below.
P.S. Stay tuned, in the next blog I will introduce you to one of my clients who has much to say about her transformation with with food.