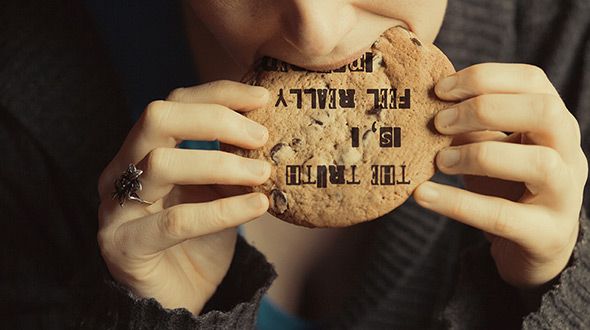 Play Audio
It starts with a little mental twitch,
overlookable.
Then a slightly uncomfortable sensation,
a little like,
but not exactly,
hunger.
Next thing you know,
you're doing the refrigerator cock your head to the side open cabinet shuffle.
Again.
You're thinking not about what you need to say,
it's just background irritation
you would prefer to avoid it,
some nagging repetitive thought
about what that person said, did,
the decision,
the boundary you really should make.
Or you're a victim in a scene
that keeps repeating,
wounded each time
by your own story.
Maybe you're rehearsing words you'll never say,
(you hope you don't)
or the perfect comeback to a moment that's passed.
Either way, that cookie, those chips, that creamy, salty, crunchy substantial heavy dense thing that you're looking for
is a fantastic way to make the words go down
stay below the throat,
til that twitch happens again,
all too quickly.
Repeat the cycle, a few more times.
Determined now, to fix your food problem.
Maybe you should start a new diet.
Maybe it IS the carbs.
But is that it? REALLY?
How about a totally different plan?
Like a " High Courage, Low Avoidance diet".
The courage to feel.
To face it.
To own your part.
To speak it.
Even if it seems like you'll be abandoned.
Even if feels like exposing your unguarded heart,
or drawing that line where you actually value yourself,
would destroy you.
One MIRACULOUS time in the cycle,
you STOP.
You recognize the craving,
as inkling, an angel's arrow
pointing right to the place
you keep abandoning yourself.
You pause.
Not forcefully,
but with strong determination.
You gently draw the arrow out.
(Notice, the sharpness only stays a few seconds).
You feel the place that's bleeding,
now covered in cells rushing with their wisdom to heal.
You breath (of course).
You decide what you need to do,
without knowing which words,
just knowing you won't ignore it any longer,
you make the phone call.
Without blaming
(you're an adult now)
and instead of stuffing your words,
this time, you hear your voice speaking them,
vulnerable as you feel.
Though you kind of have the sensation like you want to throw up,
the truth is also relieving
bringing with it a FEARLESS kind of confidence.
And this brings you ENERGY,
ALL the energy you've been suppressing.
A wholeness.
It's OK to be you.
In fact, being you,
KINDA ROCKS.