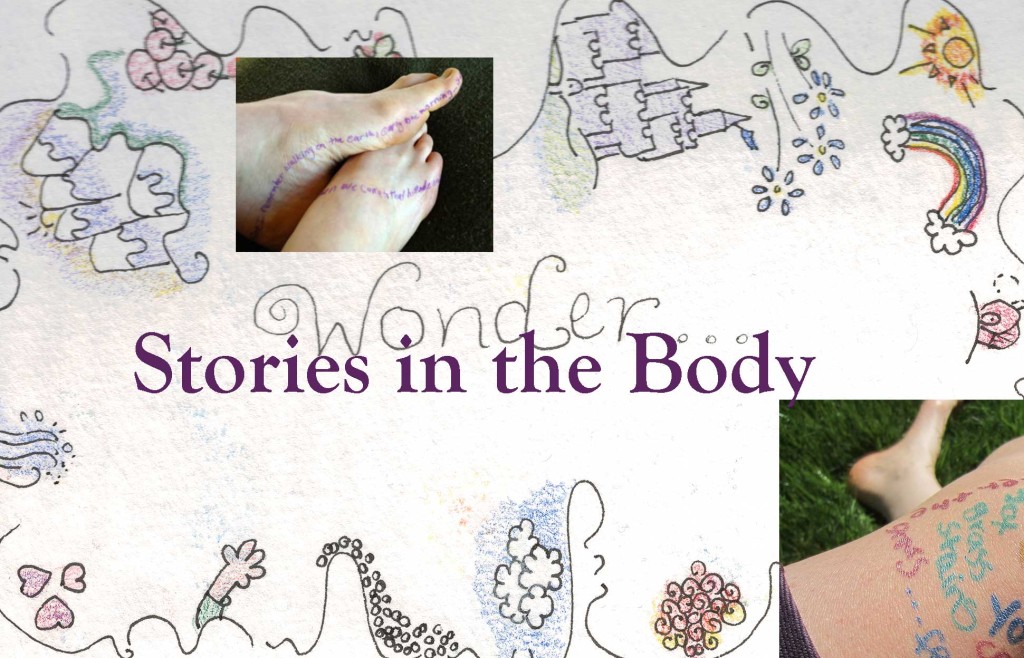 No previous dance experience required, just a desire to move, explore and play.
Next Workshop:
Date: Sunday, Nov 15th, 2015
Time: 11:30 a.m. – 2:30 p.m.
Place: Motion Massage Studio, 1829 NE Alberta, Portland, OR
What to Bring: clothes to move, water bottle, notebook & paper
Healthy Snacks Provided 🙂
Cost: $50
Class size limited, register below to secure your spot!
Christi Krug, "Wildfire" writer and Creativity Coach and Jenna Abernathy, Eating Psychology Coach and Journey Dance Teacher are teaming up to bring you this beautiful collaboration, Stories In the Body, a workshop of movement and creative writing. We can hardly wait!
Why are we inviting the stories of the body?
To excavate life stories and recover memories
To gain self understanding and growth
To lay a foundation for writing a memoir or storytelling
To release imagination
To facilitate healing in all areas
To tune into what is truly important to us
To integrate mind and body, giving freer access to inner resources
To dissolve feelings of fragmentation
You'll tap into your inner genius as you physically, emotionally, and creatively integrate the stories of your life.
Our unique combination of gently guided movement, yoga, breathing, writing, and "wildwriting" will shake loose those moments that are itching to inform your life and creative process.
We're excited about moving and listening with you, and hearing your stories unfold!
What people are saying about  "Stories In The Body" ……
"Christi and Jenna,
What an awesome and wonderful experience it was with you and the class this weekend – bringing together the body and writing really, really struck a chord with me. I've been on a spiritual and physical journey of sorts this year and have been growing in my awareness of my body so having the opportunity to explore this intersection was quite marvelous. I have a whole host of things I want to write about that sparked from the time.
I revisited one about my heart on Sunday and today and wanted to share this piece with you – from the end of the yoga time. There's more I want to explore even with this, because there was such a physicality to it that I haven't captured here – thinking especially of rabbit pose, real rabbits, and my posture and how my heart fits into that. I did yoga this morning and did the rabbit pose and had always pictured it as me curling in and collapsing on my heart and yet this morning I had a vision of my heart bursting up through my back to the sky and being out in the open on the most vulnerable part of my body in a most vulnerable pose, with my head down and my back exposed.
Thank you very much for taking the chance on the class and giving of your time. I simply can't express how timely and blessed it was for me to be able to participate."
–Truly, Becky
"This was truly an amazing experience…surrounded by other beautiful souls! I am so very grateful. Thank u for hosting such an amazing event jenna and christi!!!"
–Christopher Buchheit
"By far the best Meetup group I have been to." 
–Christopher Buchheit
"I attended this event and was awed by the experience. Christi and Jenna offer a safe and inviting space to explore, ponder and create."
–Teresa Rodden
"Wow! Still not quite sure what to make of what I came home with in my journal, but wow. Definitely going to do it again."
– Edee Lemonier