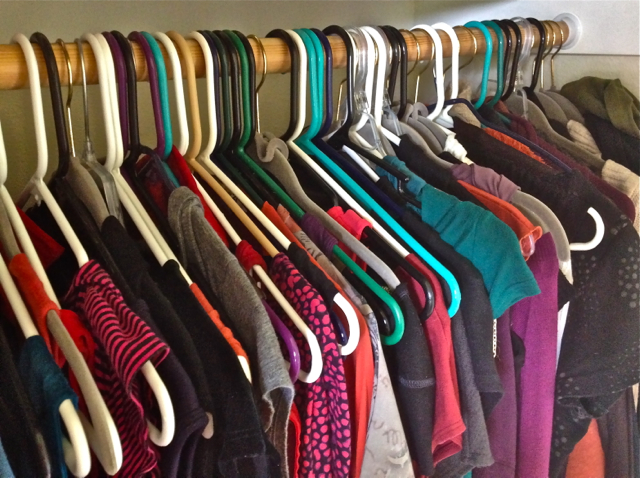 Over the years I have had many clothing size changes.  There were years when ignoring my body and binging on packaged foods were my norm.  That's when I wore extra baggy (usually black) clothes to hide my body from myself and the world.
There were other years, when I vigilantly counted every morsel and restricted my life in every way.  The grand prize for all this deprivation was squeezing my body into the smallest size possible as if this somehow inherently made my life more valuable.
Inevitably, when I couldn't sustain life like that (thanks to my rebel spirit) and I no longer fit into my new duds, those clothes served the purpose of taunting me. They made sure I didn't forget that my self worth was dependent on shrinking my body to this arbitrarily small size again.  Every time I saw them hanging up or in a drawer, it was their duty to remind me that I failed and must try harder.
I no longer live at either of those extremes. Though my female body still ebbs and flows depending on what's happening in my life, I let go of clothes that no longer fit or that don't feel good.  I learned to do this by noticing how I FEEL when I look at a particular item.  Does it energize me? Depress me? Make me wish I was someone else in some other body?
I keep what energizes me, because I have come to believe that my real job is the lifelong learning of what it means to love myself.  Since that is what I help other people do, I take this calling to heart.  I know that I can only teach what I actively give to myself.
I often have the clothes conversation with many clients and I know it can bring up all kinds of questions and fears of failure, surrender, giving up, as well as cost.  I take my cue from Feng Shui master, Karen Kingston who says that when we cling to clothes that don't fit, it actually keeps us heavier and costs us more because we are not loving our present body.
Paradoxically, because what we resist persists, the body is way more likely to find it's balanced place as we appreciate the very one we are breathing into (as opposed to some imagined future one).
So now I offer this question to you.  When you look at your clothes, which ones energize you, make you glad to start the day? Which ones make you beat yourself up? How long has it been since you comfortably wore them last?  Many of us naturally fluctuate, but if it's been more than a 1-3 years, it's time to question it.
My vote is for keeping the ones that allow you to dress your here and now body with dignity, grace and style, exactly as it is.
I would love to hear what you think of this idea in the comments below.
~~~~~~***~~~~~~
FYI: The Next Stories In The Body Series Happens Aug 9