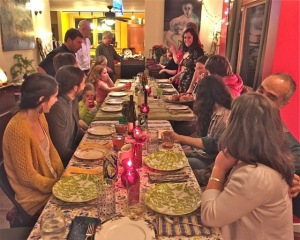 After engaging in the coaching process for a while, my typical client starts relationship with her body is driven less and less by guilt and more and more by a connection to her body. She learns she really can trust her gut and even enjoy foods she once thought of as "bad". She's also more as confident about choosing foods that help her feel good.
It's then she notices when she's out with friends, she eats things she doesn't even want, because everyone else is. She is terrified of being that person who doesn't eat gluten or drink or who's seen as fussy and uptight.
This brings our discussion to a whole new level of self love, the kind where you not only take exquisitely good care of yourself in the privacy of your own world, but dare to be witnessed in doing so. This is no small feat in a female culture that's most comfortable with self deprecation.
Truth is, it's hard enough to figure out what actually feels good in your body and give yourself permission stick with that, let alone get snagged on what you imagine other people are going to think of you. If this is something you can relate to, here is one small, yet powerful experiment for you to try:
1) Next time you are eating out socially, notice what would feel good in your body, ie what do you want and let yourself enjoy the heck out of it.  Also notice what you don't want, but think you should eat to make others comfortable.
2) Give yourself full permission ahead of time to disappoint them. Of course, most likely they won't really care or even notice, but if they do, at least this once, let that be ok.
3) When you wake up the next morning see if you have any regrets for listening to your real desires.
What about you? Have you had experiences where you were eating because you didn't want to disappoint someone or be "that person"? What did you do? How did you handle the food peer pressure?
As always, your thoughts are so welcome below.