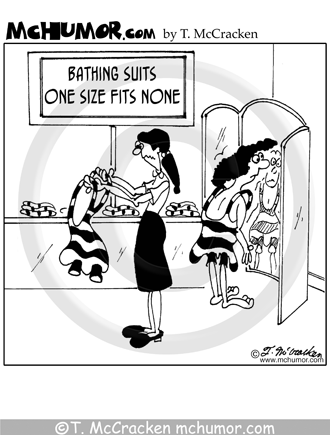 A client recently told me about the dread she experienced in finding a bathing suit for her upcoming trip to Florida. She said, "Ever since I was a little girl, I've been crying in dressing rooms while trying on bathing suits that looked terrible, felt uncomfortable, and did not fit well."
She asked me, "How is it possible that my body is so abnormal that I cannot find even ONE bathing suit that looks and feels good?" When I told her how common this experience actually was, she gave me permission to share it with all of you.
I know how incredibly disempowering these thoughts can be. They can zap the joy out of life, keep our bodies hidden, and ruin a much-needed, relaxing vacation.
The amount of energy she spends beating herself up equals the amount of life she is blocking herself from appreciating. These unworthy messages spread into every interaction, even relaxing in the sun.
Her romantic life was also taking a hit. Comparing herself to other women and coming up short, she kept her sex life at arm's length as it highlighted her body-hate-state which she preferred to avoid. This avoidance was also costing her emotional energy, as she felt guilty for avoiding sex with her partner.
Can you see how this seemingly-superficial thing we believe ripples into the rest of our lives dampening how powerful we feel romantically and socially, financially, and even spiritually?
Understanding that what we focus on expands, one of the things I advised her to do was a simple (though not easy) mirror exercise. Normally when looking in the mirror, her default was to find what was wrong. Her new practice was to look in the mirror and find at least one thing that she loved. It might be the curve of her hip, her smile, the smoothness of her skin, her shapely calves, something. Anything.
In this way, she started to create a very different feeling when she saw her image reflected back and when she envisioned herself lounging poolside.
Instead of triggering a cycle of disempowerment, this practice became a new way to honor and appreciate how awesome her body and her life actually is.
Though it did not "fix" her negative thoughts, she now had another voice emerging that could stand up for her, energize her, and allow her to have new options in her body experience.
And as you might have guessed, this also influenced the FOOD she ate before and during the vacation!
She was prepared to starve herself before getting on the plane and munch on salads while in Florida. Together, we created a loose pre-vacation menu that was rich in nutrients and would keep her less bloated. She also agreed to enjoy "whatever looked good" to her on vacation.
Isn't that what vacations are all about?
Additionally, our work together seeped into her intimate life. What if she could embrace the sexy that is right here already? What if she could focus on how pleasure feels, instead of how she thinks she looks?
She began to realize that it was her choice to turn up her sensuality for herself first, and she could enlist her partner for support–which he was more than happy to do.
What's profound to me is that something as inconsequential as how we feel in a dressing room can be a positive (or negative) foundation for how we show up in the world.
Self deprecation is how we protect ourselves from what we imagine others think of us. This neglects the fact that the one most profoundly affected by our thoughts is US.
Breaking this damaging cycle has endless benefits. What about her good health? What about her strong body? What about the fact that she has the means to take a vacation? She began to use her thoughts to pro-actively appreciate ALL of these things.
I hope this story, as well as the mirror practice, can inspire a new generation of women to focus on what matters and love themselves, no matter what!
As always, if I can support you or an important woman in your life, know that I'm here for even the most intimate of details. After all, these aren't unique thoughts. They are universal blind spots that have been spoon fed to us by our culture and media. We have the power to change them, one thought and one action at a time!
What about you, have you ever transformed how you saw yourself by shifting your attention? I would love to hear about it in the comments below!