I love the clean slate of a new year as much as the next person, but there's something about new year's resolutions that I abhor. Maybe it's because I've overused willpower to where I know by heart the sting of disillusionment when the pendulum swings back and hits me in the face.
Though it may sound strange, I find it exciting when I get to work with a client who has also used her willpower to the point where she can sense that a quick fix won't cut it. I have noticed these are the people who are ready for a new way of healing, not just their body, but deeper than that, their mind.
I recently came across a talk by Lyn Twist referring to the distinction between transformation and change and I thought, "YES" this is what I am talking about!"   Though the context of her talk was one about leadership, (which I mostly left out) the rest of it spoke to me about the kind of transformation I have witnessed, experienced, and nurture when it comes to learning to trust ourselves and heal our relationship with foood and body.
I think transformation is distinct from change…

….When we have a transformation of any kind, we are liberated from any kind of consciousness that has limited or confined our thinking.

…To clarify transformation never negates the past, it makes sense of it, it completes it. Change usually negates the past, makes it wrong, like a switch, where as transformation completes the past, it embraces it in a way that you can stand on the platform that the past has created to make way for a new future..

So I think transformational (leadership) requires a deep understanding of transformation and the power of creating contexts in which people can rethink, re-see, recreate who they are and where they are standing, in relation to their issue.

I believe when transformation takes place it is permanent.

Once that transformation takes place it becomes a platform on which we create the next transformation.

Of course people want to change, but change actually doesn't go deep enough to really make the kind of difference that people are clamouring for, that they are hungry for.

…this distinction between transformation and change is very important.
If there is an area in your life that you are a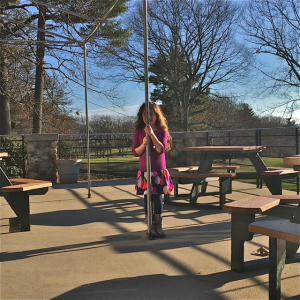 ching to change whether it be in regards to health, relationships, money, spirituality or work, what would it be like to have a transformation in that area? What would it be like to embrace the past, and present as part of that transformation instead of getting rid of where you are?  How could you create a new platform, a new context in your life, to recreate, re-see, rethink who you are and where you are standing?  Who would you be talking to, what would you be reading? Watching? Conversing about?  What support would you need to call in?
I may not be into new year's resolutions, but I do love the idea of using the momentum of the new year to create a context for transformation.
And that transformation usually looks very different than we think it should, (that's the surrender part). So often when we look under the hood of a problematic behavior that we think of as self sabotage,  we see it is actually the part of the us that is trying to have more fun, or be our real selves, speak our minds or aching to take our mask off.  There's something important about that!
Transformation is an inside job, it's a turning towards the seeming problem to see what makes sense about where we are, and from that space of understanding ourselves, we have the potential for real choices.
Personally I am committed to nurturing more shared joy in my life. This is one reason why Journey Dance has been such an important experience for me to grow.  It not only satisfies me personally, it is a way in which I can create a context in which to share joyful experiences with others.
(FYI, the next Journey Dance, this Sunday we'll focus on Dancing Your Transformation & Pattern Interrupting)
What about you?  Have you ever created a context for transformation in your life? What did it look like? How could this new year momentum be one that supports transformation in a way that honors exactly where you are and where you have been?
As always your thoughts and feedback are so welcome below.