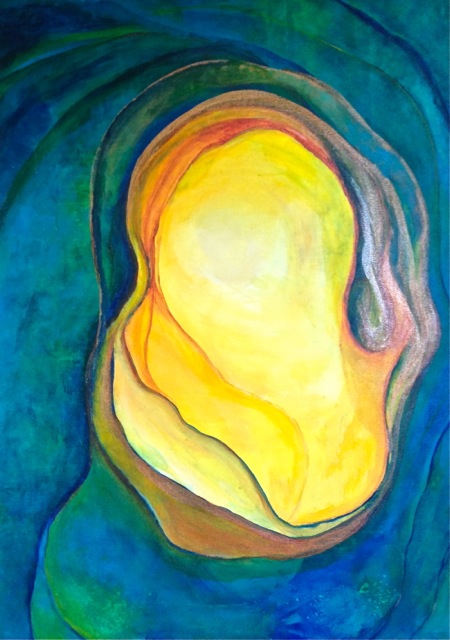 Sunbathing
on my city porch,
sweat soaking the tattered blanket
I share with my antagonist, Longing.
Part of me steadies herself, grateful,
aware every step is perfect.
Another part walks backwards, forwards,
into a fantasyland of what if's, could be's, and urgent not-enoughness,
pleads the case for a sexier version of my life, my body.
Her steps leave me dizzy, confused,
where did my power go?
I know it was around here somewhere…
Did I leave it on the stairs,
drop it on my walk,
or forget I pressed it into someone's chest as I hugged goodbye?
Then it dawns on me,
its right there in the front pocket of my jeans,
slung over the railing.
Only my forgetfulness to blame.
At a contact improv dance,
I move wordlessly,
fingertip to fingertip with a stranger.
For over an hour we invent our own moving language
contorting, spiraling, distancing, rejoining.
The pleasure of the human dance unfolding brings relief,
unexpected delight.
Still, Longing doesn't budge an inch.
How selfish am I, whose world is so full
yet craves more, different, adventure, love?
A red blue line divides me,
an insatiable urge to tear open threads carefully stitched together,
restrained by the wisdom to buttress the pattern.
The disquietude consumes me.
Unexpressed experiences, words, rattle beneath
the seams of the life I have sewn for myself.
My vertebrae ascend upright upon my meditation cushion,
the safest and wildest place to be.
Me and the mental laceration,
a trap I let myself get caught in,
aching to be whole,
even as the split defines me.
The wound and the gift, the same damn thing.
Hasty to mend
the frayed places in me,
exposed to the light
of the longest summer's day,
I remember, to remember.
Here. For one blessed moment,
I stop obscuring the unsexy truth,
and breathe into that godawful sinking sensation,
I avoid so well, vulnerability.
My inner Queen of Compassion sighs, "Darling, relax into the missing piece-ness of it all.  Let the edges unravel and reveal themselves, til there's no more illusion to cling to."
Like a soothing cloth over my sunburned spine,
I inhale my power back,
hushing the voice that says
I have to be more than this.
The red blue lines mingle in me,
my patience rewarded now,
with the peace of my life unfolding,
unrushed.
~~~
Come dance what the light is tearing open in you, this Solstice Sunday Journey Dance!