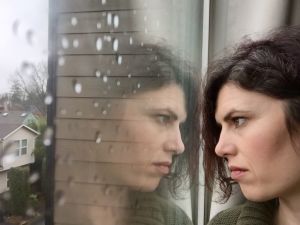 Even the idea of it, staring at my computer and endless to-do list, seems foreign, trite.  I get so serious, as if my life was defined by what I get done, instead of the quality of my relationships and inner world.
I get hypnotized into a thought tunnel that's hooked on checking items off lists or seeing what other people are doing on social media.
This mindspace has a gravitational pull to it.  Snapping out of the trance is not always easy. To awaken, I tell myself, "Five minutes, just put some music on and move in any way for five minutes."
Despite naysaying thoughts, I turn on a slow, heavy groove and allow the music to take over my impulses.  No longer trapped inside my narrow mind, there's a buoyant quality to my limbs now, my torso and hips too.  I feel lighter, like the real me.  The beat changes and blocked creativity shakes loose from frozen places. I feel edgy, in a good way, unwinding the built up accumulation of taking-myself-way-too-seriously muscle tension. I'm a little weird as I move, and I enjoy my own strangeness.
Yes, this is why I love to dance, why I love to share it.  It's never about what it looks like, it's always about what it feels like.  As I find new ways to move, the possibilities of my life open up again.
Sometimes I walk around with the world's tragedies heavy on my heart, ceaselessly asking myself, "Am I doing enough with my precious freedom? Does it even matter?"  I can not say I know the answer, but I do come back to the next thought…
We can't fuel the evolution we want to see just with our anger, overwhelm, and certainly not our self deprecation. There has to be places where we reconnect with our joy, our power and our courage to be ourselves.  These qualities which are all located here, now in the body, under all the noise of the outside world.
Dancing does not always appeal to my mind or the part of me that wants to fix things, get things done, or be important, but it is one of the ways that brings me back to the aliveness of this moment, even and especially when I do not feel like it.  To me, this is where the rubber meets the road when it comes to healing: letting go of the control in order to experience how the body wants to be moved when given half a chance.
Your thoughts are always welcome below.
Next Journey Dance: This Sunday Feb 15th @ Moxie