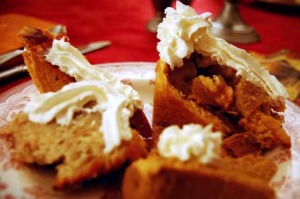 That's been the focus of multiple coaching calls this week, so I thought I would share some last minute thoughts.
You've probably heard of tactics like walking away from the food, or focusing on the people you love or being a mindful eater. These are all fantastic suggestions that can really make a difference in how much you consume.
The trouble comes when they are done solely for the purpose of controlling appetite, you can end up feeling restrained all day, like a tight coil waiting to spring when you find yourself alone with the leftovers.  When controlling, you are in your head, where being a mindful eater can feel like just another "should" to throw on the "I'm not good enough" pile.
What lit me up from one conversation this week was after going through ways of managing a dreaded overeating episode, we instead focused on what would be the most pleasurable way to spend the day.  
For one client this changed everything, as it meant not over-planning and micromanaging, but instead welcoming the part of her that wants to have fun (her inner kid) to come out and enjoy herself.
This put a whole new spin on her day and the anxiety in her belly subsided.  
When your focus is instead on pleasure, you are by nature having an experience in your body. From this place you can feel where the pleasure ends and where unpleasant sensations in the belly begin. If you drop into following whole bodily pleasure, you will likely sense the thread of something you can trust inside.  The question then becomes, can you welcome yourself to delight in the decadence of the day?
Your thoughts about this are welcome, below.