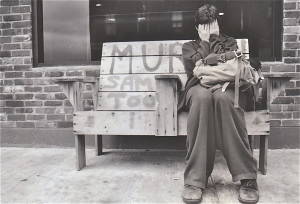 This photo from age 19 captures how I felt in my life at that time. The oversized men's pants and men's shirt scored from a freebox, the worn boots bought in a village while traveling China, and my army backpack  all screaming, "Don't look at me!"  were my basic attire for years.
Growing up on the east coast, I was harassed on a daily basis from my bus walk to school for having a female body. I decided I wanted nothing to do with being seen, judged, ranked or yelled at based on my shape. I didn't want to take part in a society that put so much stock in how a woman should look or dress.
Long before I boarded the diet train to binge land, I tried everything I could to sidestep my place in a culture that taught girls to be slaves of fixing their bodies.  The implicit and explicit rules that anxiously consumed every female I knew was like a Matrix I wanted to tear open.
I wanted more from life, more from relationships.  I wanted out of the whole juggernaut and I had no idea how to do that except to distance myself from my body, to make myself invisible.
Sometimes I hid with enormous clothes, sometimes with enormous amounts of food.And in a way, because I got less attention which in turn made me feel safer, it worked.
Looking back I'm proud of that provocateur in me, who demanded more from life.  I can also see that I was terrified. I feared being looked at and measured as not enough, or misunderstood and seen as two dimensional.
The problem with my strategy is that everything I did was in reaction to who and what I didn't want to become while I had no idea how to be me without hiding.
The paradox of living from the rebel, is that what we rebel against still controls us by constraining our actions to those that are contradictory. That is not freedom.
Lacking a role model to demonstrate how to trust my emerging self, I had no idea how to thrive, let alone celebrate who I was.
What I didn't realize is that there was an even deeper fear than being judged, and that was the fear that I was in fact powerful. I was terrified particularly of being in this curvy female body which garnered so much attention and seemed to have nothing to do with who I was. Learning to integrate and stand in that power has been a lifelong process.
I had to learn the many ways to show up in my power in order to show up and do what I do.  Two of the most challenging have been: The Power to say No even when it disappoints someone & the power to embody fully this body, no matter how it shape shifts over the years.
Visibility issues are about the fear of being seen as you are, and that is especially terrifying when; a) you could be in physical danger or b) you give other people's opinions more credence than your own 
Rearranging the B part is the shizzle when it comes to empowering your life.
Standing in your power has nothing to do with what other people think, attention seeking, or being perfect, but rather it's about the agreeing to show up for yourself in your own life. It's about paying attention to the unique life force moving through you like it's a treasure map to the truth in you.
This process of drawing out and reflecting the inherent power inside a person is essential to how I work with clients. It's major part of the why of what I do.
The work it takes to align inner and outer worlds in order to override the fear of being visible means you have less and less to hide, and that is ultimately freeing. May these words support what wants to free up and be seen inside of you.
~~~
Do you have visibility issues? Have you overcome any? I would love to hear about it below.