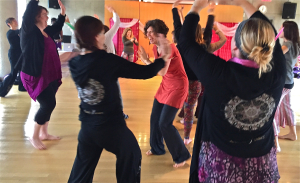 "The thoughts that most block intimacy are judgements. The realm where we make ourselves or someone else wrong, that's the domain of separation. When there's self judgement, there's a contraction and a re-enforcement of all the blocking in the body. The only way to do any healing that leads to intimacy is to come back into the body." ~Tara Brach
Arriving early for a dance class, I popped into a nearby store to explore. The shop owner and I were the only ones there so we got chatting about the day and she asked what I was up to.
When I told her I was going to dance she smiled and expressed how much she loved to salsa dance with her husband.  Too bad though, she said, because she CAN"T do it in this body, she had gotten heavier, she would have nothing to wear, and she would be too embarrassed.  This sentence was a painful reminder of why I do what I do.
Here is this woman who LOVES to dance but won't because of how she imagines she will be perceived, and yet, this is her life, her body, herjoy, she is neglecting. And I imagine to myself, what else is fear stopping her from doing, creating or being if she won't even allow what she loves? By buying into these judgements (a trap easy to fall into in this culture) she not only blocks her own life force, she blocks those that love her from the full gift of who she is.
Unfortunately, I hear this logic often, that of a person forgoing what she loves because her body is not good enough, yet.
And I totally get it. Over the years I have hesitated on so many things, teaching yoga, coaching, and more recently teaching dance, all with a critic who tells me that I am not "there" yet or that my body isn't good enough to be an expert in these services.
At the same time as the critic voice barrages me in this attempt to keep me "safe" from judgment, there is another voice, and it's quieter. That voice tells me that doing what I love to do, and doing it imperfectly is exactly what I need to do. It reminds me that I want to be a force in the world for listening and trusting self, with all of my foibles, even in the face of judgment, mine or another's.
The irony of course is that the only way to love this body more and feel good in it is to get into it, to embody it, to move and play, and to feel what is coming up to the surface. Dance, for many, is an exquisitely freeing entry point into healing body image and feelings of disconnection.
So I ask you…will you dance in this body of yours?  In your room? Alone? In public? With your sweetie? In a group? A very safe group?
I hope you will. I hope you will say yes to what you love dance yourself into and out of the darkest time of the year.
Your thoughts and feedback are always welcome in the comments.
**********************
And, if you are in the Portland area, I invite you to dance with me for a Solstice Journey Dance on Dec 21st from 6-8pm. All bodies are welcome, no coordination or dance experience necessary!
RSVP via email jenna@divinehunger.com